Math Mammoth South African version placement tests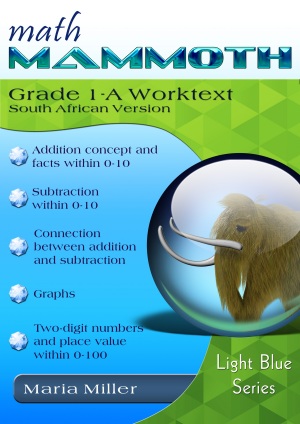 146 pages
125 lesson pages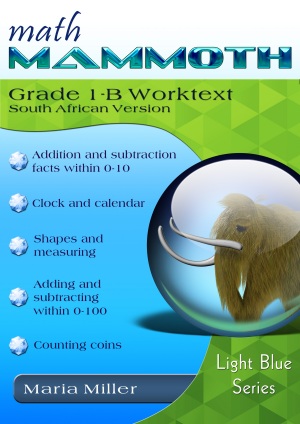 146 pages
122 lesson pages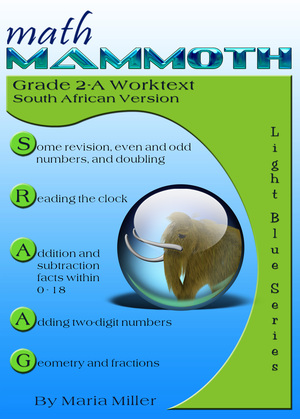 160 pages
133 lesson pages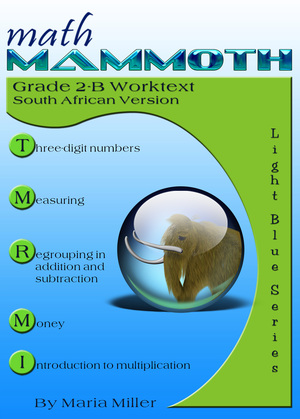 155 pages
134 lesson pages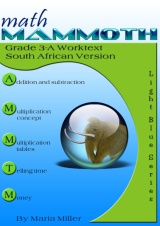 182 pages
157 lesson pages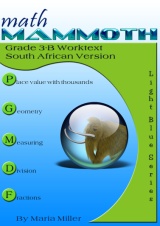 164 pages
138 lesson pages
The placement tests below are "end of the year" tests for Math Mammoth South African version. In other words, the tests are meant to be taken AFTER studying the particular grade.
You can also use these tests as general maths diagnostic tests, to help you find if your student has any gaps or has not learned specific topics, because the tests group the questions by topic. Just look at the test results per "sections" of similar problems (addition, multiplication, measuring, geometry, place value, problem solving). You can always email me your child's test results if in doubt.
I advise that in order to start with Math Mammoth complete curriculum for grade level X, the student should score 80% or more in the previous year's "end of year" test. Children scoring between 70 and 80% may also continue with the next grade, depending on the types of errors (careless errors or not remembering something, vs. lack of understanding). Use your judgment.
Tip: If you notice your child has problems with one or two concept areas in a particular test, but otherwise does fine, you can use Math Mammoth Blue Series books to "fill in those gaps".
You can also email me with your test results if you have trouble deciding which Blue Series book you should use for such remedial work.
---
Questions about placement