Math Mammoth South African Version
Math Mammoth South African Version (Light Blue series) constitutes a full elementary mathematics curriculum for grades 1-7 (U.S. grade levels).
Some of the main features of the curriculum are:
It is mastery-oriented and organized into chapters by topics. Thus, in each chapter the curriculum concentrates on one theme and its connecting topics (such as place value, multiplication, or geometry). Each grade level typically contains 8-10 chapters.
The curriculum focuses strongly on conceptual understanding.
Visual models and exercises are used a lot.
Mental math and number sense are emphasized.
The curriculum is nearly self-teaching for many children, since the full explanations of concepts are included in the student books. Thus it requires fairly little preparation time from the teacher.
There are free videos that are matched to the curriculum.
What is provided?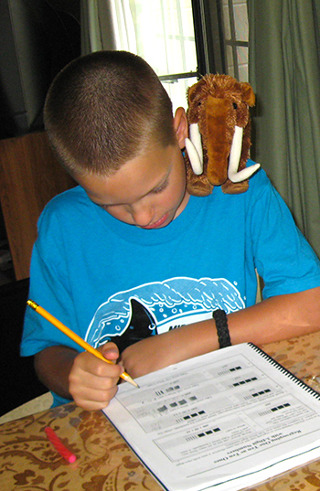 Each grade level in Math Mammoth Light Blue series consists of two student worktexts (A and B), which contain both the teaching (explanations) and all the student work (exercises). Also included are answer keys, tests, cumulative review lessons, and a versatile worksheet maker (Internet access required).
There are also lots of videos (available online) that are matched to the curriculum.
The download version also provides these "extras":
files to replace the chapter on money in grades 1, 2, and 3 in U.S., Canadian, British, European, Australian, and New Zealand currencies. This South African version of Math Mammoth uses rand as a default currency in the student worktexts.
bonus software Soft-Pak
user guide (you can also download this from the web page of each grade level)
Please read more details at the Frequently Asked Questions and Answers page.
---
Math Mammoth South African version has been customized to South Africa in the following manners: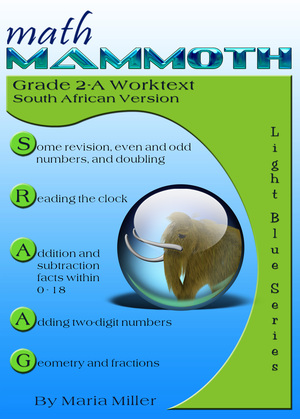 The names used are South African names (such as Ansie and Jali).
The currency used in word problems is rand. The money chapter teaches both rand and cents.
The material is "all metric". In other words, the US customary measuring units are not used.
Spelling is British English instead of American English.
Paper size is A4.
Geographic locations used emphasise South African locations (such as Pretoria, Johannesburg).
Please note that the curriculum is not following the South African official syllabus. Instead, it is simply a copy of the US version of Math Mammoth Light Blue series (aligned to the US Common Core Standards). For the most part, Math Mammoth is exceeding South African standards. Some standards may not be covered.
Math Mammoth Light Blue Series is included in
Cathy Duffy's 102 Top Picks
!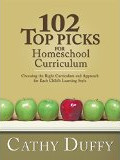 "
I particularly liked the free math videos where you can actually see Maria explain each of the math concepts! There are a ton of videos for your kiddos to follow along with her as they do the problems. This allowed me to get more work done and enabled my son to work on his own. Win, Win!!
"
More information by grade levels
Please follow the links below to read a full description of each grade level, download samples, and find specific purchasing information.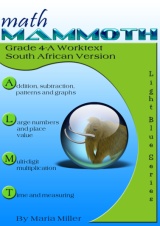 Grade 1 (South African version)
Grade 2 (South African version)
Grade 3 (South African Version)
Grade 4 (South African Version)
Grade 5 (South African Version)
Grade 6 (South African Version)
Grade 7 (South African Version)
We also offer supplemental, additional skills review workbooks to accompany the Light Blue Series.
The video below gives you a comprehensive overview of the curriculum:
Dear Mrs. Miller,
My daughter loves the
new online practice site
. Using mom's computer is always a fun treat, so she was thrilled to get to practice math facts on it. Please give our thanks to your son! My daughter says, "Thank you so much!"
We have loved Math Mammoth for the past 6 years. I've taught high school math since before I had children, using Foerster's and Jacobs' books in both private schools and homeschool co-ops. When parents with younger children ask what I recommend, I tell them about the great experiences my children have had and how well my oldest was prepared for Algebra. I've even recommended it for remediation for students I tutor who never grasped integers or percents.
Thank you for such a great program!
In Christ,
Jennifer Drury
Placement
It is fairly important that you have your student(s) take a placement test or several prior to introducing the student to Math Mammoth. Many popular math curricula are easier than Math Mammoth and thus there is a danger the child is placed too high, if you simply follow the "grade level" from the child's previous math curriculum.
Discounted bundles
You can get a 33% discount by purchasing a bundle!
Grades 1-3 bundle (SA version)
Price: $75 USD.
Add to cart
Grades 4-7 bundle (SA version)
Price: $105 USD.
Add to cart
You will be purchasing the downloads from my authorized reseller Comecero, LLC.
After much searching, reading blogs and webpages and listening to the motivations of parents believing in a whole spectrum of Maths programmes, we stumbled upon the Math Mammoth programme. We have found this to be the most accessible (electronically downloadable) and affordable option for South African homeschoolers.

We wholeheartedly endorse and recommend MathMammoth as a very thorough, interesting, complete and appropriate homeschooling package up to Grade 6. Our kids love it!
Marius & Debra Marais
Polokwane, South Africa
I want to let you know how pleased I have been with the solid foundation your curriculum has given my daughter. Every time we had dabbled in something else, we always come back to Math Mammoth for the crystal clear explanations and the thorough, but never belabored, practice. I rave about it all the time!

Sincerely, Alicia S.
Read more customer testimonials! (about the US version)