Math Mammoth skills review workbooks
Math Mammoth skills review workbooks have been designed to complement the lessons in Math Mammoth complete curriculum (Light Blue series). They give the students practice in reviewing what they have already studied, so the concepts and skills will become more established in their memory.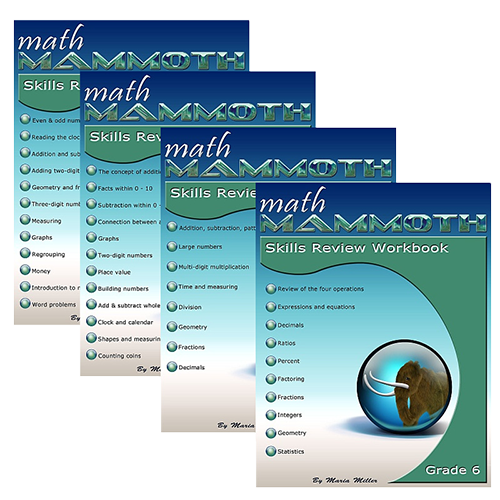 These books are designed to provide a spiral review of the concepts and skills in the curriculum, and to be used during the school year, alongside the main curriculum. After a concept or skill has been studied in the main curriculum, it is then reviewed repeatedly over time in several different worksheets of the workbook.
Each book contains 70-100 worksheets, and is divided into chapters, according to the corresponding chapters in the Math Mammoth curriculum. Each worksheet is designed to be one page, and includes a variety of exercises in a fun way without becoming too long and tedious.
You can choose exactly when to use the worksheets within the chapter, and how many of them to use. Not all students need all of these worksheets to help them keep their math skills fresh, so please vary the amount of worksheets you assign your student(s) according to their needs.
These workbooks are available both as inexpensive downloads (PDF files) and as printed books.
Choose a grade level below to read more information and view a sample.
Testimonials
I love Math Mammoth as a supplement for all sorts of reasons.
I've used it in a LOT of different ways. Here are some.
When I taught 1st-2nd-3rd grade (public Montessori school), there wasn't enough practice, so I had the kids do 1-2 pages every day of Math Mammoth as follow up. I did Montessori lessons around the work, and then the practice that MM provided was perfect.
Her worktexts also let me easily accelerate kids who wanted to move more quickly. I had kids who wanted to "skip a grade" in math, so I used MM to help do this.
I've used the
end of the year assessments
to see where kids are at — we also have kids whose parents opt them out of standardized testing, and I've used MM assessments for skill placement.
I also used the
review books
for summer practice. I offered all parents a math review book if they wanted it, and about half took me up on it. I sent these home with answers, and kids were able to keep skills fresh during summer. Most kids didn't finish the work, but when I surveyed, almost all of the parents who took one said it was worthwhile, and they would ask for a packet again the next summer.
I've gotten promoted to middle school now, and I'm using the skill review books for homework groups. The kids get a packet of 4 MM pages of skill review from the previous grade or lower, all differentiated based on their level, and one page of problem solving that I pulled from something else. They get them Monday, and they bring them back Monday completed. Then they get into "homework groups" of 4-5 kids, and they discuss any problems that they didn't know how to do and help each other. If no one knows how to do it, then I work with the group. This has helped me to see where kids have holes and what to review in class.
I love that there's more thinking in the Math Mammoth than the normal drill-and-kill worksheets. Through her online newsletter, Maria me to the work of Jo Boaler, who is now one of my favorite math leaders. I love the philosophy that both Maria and Jo follow and that I feel comfortable with the worktexts and practice matching what I believe about math.
I love how I can use Math Mammoth flexibly and for different needs for different kids at different times.
Jana Fullerton
FAQ
1. Everyone knows Math Mammoth is a mastery-based curriculum, so how does this spiral workbook fit with that philosophy?
I have never been against the idea of spiraling back to the same concepts for review, and that is what this book provides. I still feel strongly that children cannot learn effectively, if each lesson consists MOSTLY of spiral review, and if the main topics of the lessons constantly bounce around from one topic to another. The main idea of MASTERY in Math Mammoth means that major topics are studied in depth. While that is happening, students can also review other concepts, but the review should not take away from letting students focus on the major points they're learning in any particular chapter of the curriculum.
2. Are these offered in a discounted bundle?
Yes. There is a bundle for grades 1-3, for grades 4-7 and grades 1-7.
3. Will these workbooks be part of the Light Blue series bundle?
No.
4. Are these workbooks part of the All Inclusive and Everything bundles?
Yes, they are.
5. I own the Light Blue series, or am planning to buy it. Should I also buy these books?
I would recommend NOT to buy them initially. See how things go, and if your child(ren)/students do well with all the resources already included in the Light Blue series. Then after you have used the actual curriculum for a while, if you feel they would benefit from additional review, you can purchase the skills review workbook.