Math Mammoth Multiplication & Division Worksheets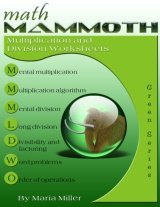 68 worksheets
Answer key included.
Sample pages (PDF)
Contents
Multiply Whole Tens and Hundreds
Long Division 4
Multiplication Problems
Greatest Common Factor
Order of Operations
Factors
PDF download $5.00
You will be purchasing the downloads from my authorized reseller Comecero, LLC.
Note: This is a legacy product and no longer updated. Please see the Blue series worktexts for current products by math topics.
Part of the Math Mammoth "green" series, Math Mammoth Multiplication & Division Worksheets Collection is a workbook containing various multiplication and division related worksheets for grades 3-6.
The book covers the following topics:
multiplication concept,
multiplying in parts,
multiplying mentally,
multiplying in columns,
division concept,
long division,
remainder,
estimating,
divisibility,
factoring,
multiples,
LCM and GCF,
primes,
order of operations,
part of whole,
and lots of word problems.
The topics span about four grade levels (from grade 3 to 6), concentrating mostly on grades 4 and 5. Here they are organized by topic (see table of contents).
This book does NOT, however, include a practice of the multiplication tables. For that purpose, see Math Mammoth Multiplication 1 book (from the Math Mammoth Blue Series).
Please note this workbook does not include instructions, only problems and exercises. If you need the teaching part as well as the exercises, please check out the BLUE series books Multiplication 2, Division 2, and Multiplication & Division 3.
Note: These worksheets and the Math Mammoth GOLDEN series Grades 3, 4, 5, and 6 worksheets collections contain duplicate content.
Blue Series
- $151 (download) or $154 (CD)
Blue Series for grades 1-3
- $49 (download)
Blue Series for grades 4-5
- $45 (download)
Blue Series for grades 6-8
- $57 (download)
Light Blue Series, grades 1-7
- $184 (download) or $189 (CD)
Light Blue Series, grades 1-3
- $79 (download)
Light Blue Series, grades 4-7
- $105 (download)
Golden/Green Series
- $65 (download) or $70 (CD)
All Inclusive Bundle
- $280 (download) or $283 (CD)
"Everything" Bundle
- $340 (download only)
Learn more
about the bundles!
*BONUS*
: Buy any bundle listed above, and get the fully upgraded
Soft-Pak
software for FREE (includes 4 math and 2 language arts programs, complete with on screen and printable options).
How and where to order
You can buy Math Mammoth books at:
Here at MathMammoth.com website — simply use the "Add to cart" buttons you see on the product pages.
Rainbow Resource carries printed copies for the Light Blue series books, plus several CDs (Light Blue and Blue series).
K5 Learning offers download versions of the Blue series.
At Teachers Pay Teachers you can purchase the Light Blue Series downloads, plus topical units.
Lulu sells printed copies for most of the Math Mammoth materials (various series).
---
By purchasing any of the books, permission IS granted for the teacher (or parent) to reproduce this material to be used with his/her students in a teaching situation; not for commercial resale. However, you are not permitted to share the material with another teacher.
In other words, you are permitted to make copies for the students/children you are teaching, but not for other teachers' usage.
---
Math Mammoth books are PDF files. I recommend you use
Adobe Reader
to view them, including if you use a Mac. You can try other PDF viewers, but they may at times either omit or mess up some of the images.