Mathematics Foundations (Well-Trained Mind Edition)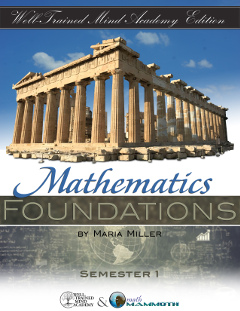 242 pages
PDF download $18.75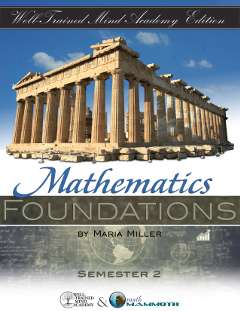 204 pages
PDF download $15.75
You will be purchasing the downloads from my authorized reseller Comecero, LLC.
Mathematics Foundations: Well-Trained Mind Academy Edition is a set of two custom-made books for the Mathematics Foundations course offered by the Well-Trained Mind Academy. The books are compiled of lessons and pages taken from grades 1 through 7 of the Math Mammoth Complete Curriculum (Light Blue Series).
The Mathematics Foundations course is designed for those students who have completed an elementary mathematics program but do not possess strong math skills and who may have have gaps in their math knowledge, preventing success in the traditional curriculum sequence.
The course includes a review of basic arithmetic skills, including operations, number theory, decimals, percents, integers, variables, the Cartesian plane, and basic geometry. Emphasis is given to mastering fractions.
The material is divided into two books: one for Semester 1, and another for Semester 2.
The main topics in the semester 1 book are:
place value and large numbers
addition and subtraction
division and multiplication
fractions and decimals
integers
the order of operations
mean, median, and mode
primes, GCF, LCM
percent
powers and exponents
The main topics in the semester 2 book are:
equations and expressions
multiplying and dividing fractions & decimals
the order of operations
patterns and the coordinate grid
measures of variation
stem-and-leaf-plots
divisibility and primes
angles, circles, and rectangles
area and perimeter
percent and simple interest
ratios and rates
equations that involve taking a square root
the Pythagorean theorem