Math Mammoth review workbooks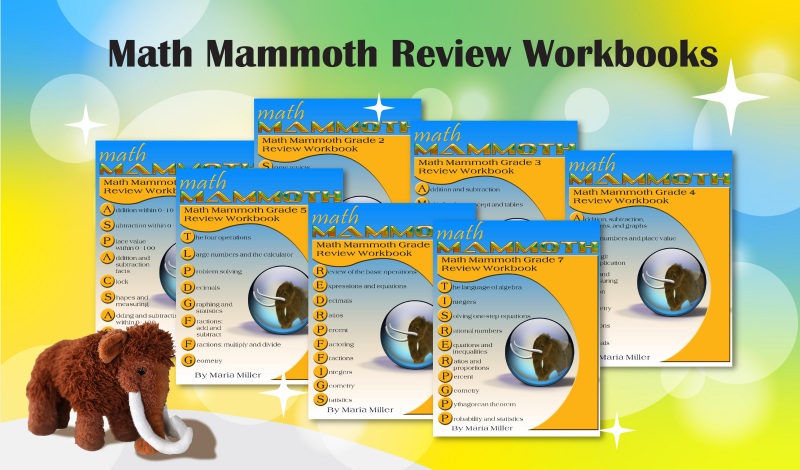 Math Mammoth review workbooks are intended to give students a thorough review of their particular grade level of math, following the main areas of math for each grade in the Common Core Standards. Each book has both topical as well as mixed (spiral) review worksheets, and includes both per-topic tests and a comprehensive end-of-the-year test. The tests can also be used as review worksheets, instead of tests.
You can use these workbooks for various purposes: for summer math practice, to keep a child from forgetting math skills during other break times, to prepare students who are going into a specific grade, or to give students extra practice during the school year.
Please note: The CONTENT for these workbooks is taken from the corresponding level of the Light Blue series (the mixed reviews, reviews, tests, and cumulative reviews). Therefore, these workbooks contain duplicate content if you already own the Light Blue Series.
These workbooks are available both as inexpensive downloads (PDF files; $5.50 per book, grade 7 is $7.50), and as printed copies at Lulu.
Choose a grade level below to read more information and view free samples.
SAVE WITH A BUNDLE!
Get all of the PDF workbooks as a discounted bundle for
USD $38.70
— a 35% discount! (DOWNLOAD version).
Price: USD $38.70