Math Mammoth Golden Series worksheet collections
Download Golden & Green Series Catalog (PDF download, 4.8 MB)
---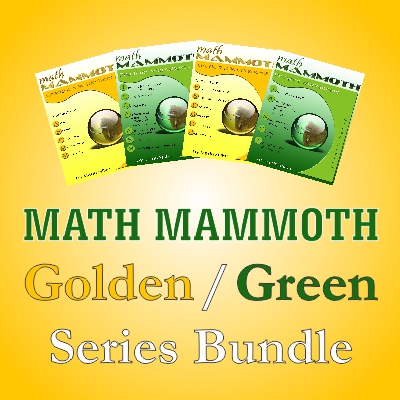 Get ALL of the Golden Series plus the Green series worksheet collections for a bundle price of $65 (download)!
---
Download some free sample pages: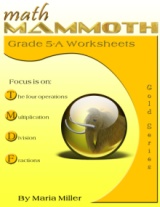 Grade 5:
Multiplication
Word Problems
Proportional Patterns
Factors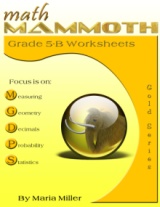 Equivalent Fractions 1
Triangles
Area - Perimeter - Volume
Divide & Multiply Decimals
→ More info & free samples
---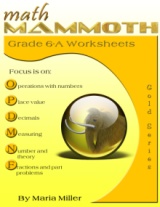 Grade 6:
Mental Math
Equivalent Decimals and Fractions
Metric System Prefixes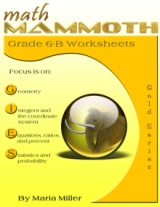 Factors vs. Multiples
Angles in a Triangle
Add and Subtract Integers
Find Whole From Part
Line Graphs 3
→ More info & free samples
---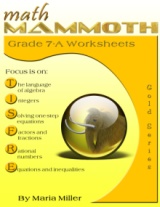 Grade 7/prealgebra:
Expressions
Add Integers 1
GCF and Simplifying Fractions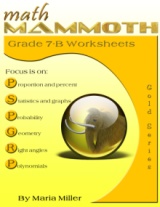 Problems with Ratios
Mental Math & Percent
Construct Line Segments and Angles
Area Problems
→ More info & free samples
---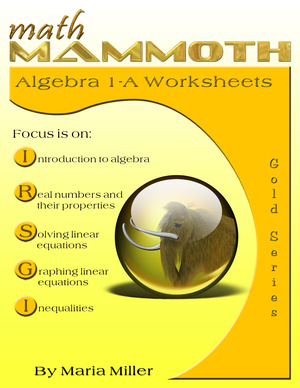 Algebra 1:
Variables and Expressions
Writing Equations
Ratios and Proportions
Graphs of Linear Equations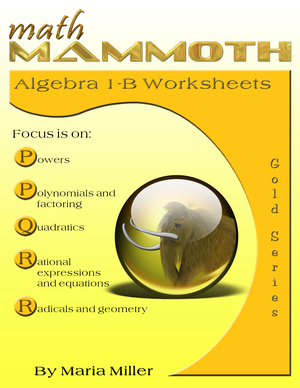 Solving Linear Systems by Elimination
Special Products
Applications of Quadratic Equations
More Radical Equations
Geometry Problems
→ More info & free samples
Math Mammoth Golden Series books are collections of worksheets for grades 3-8(9), consisting of two parts (A and B) for each grade. Each worksheet concentrates on one topic, but with very variable problems.
These are not 'run-of-the-mill' math worksheets. Each sheet in the Golden Series workbooks has been "hand-crafted", with problems that both emphasize understanding of concepts and practice computation, and also include various word problems.
In essence, the problems in these books are like what you would find in a regular math book, and far from mechanical worksheets created by a script.
Each collection in the Golden Series contains about 120-150 worksheets. These are available from grade 3 through Algebra 1. Please follow the links below to learn more about the individual grade-level collections:
Grade 3 Worksheets
Grade 4 Worksheets
Grade 5 Worksheets
Grade 6 Worksheets
Grade 7/8 Worksheets (pre-algebra)
Algebra 1 Worksheets
You can get ALL of the above listed collections
plus the Green series worksheet collections
for a bundle price of $65 (download)!
Add to cart
The PDFs in the download version are enabled for annotating. This means that the student can actually complete the PDF file on the computer, using the typewriter and drawing tools available in Acrobat Reader version 9 or higherm, or on a tablet device such as an iPad, using a PDF app that has annotating tools.
The video below explains the basics of the Golden Series.
TOS Review: Math Mammoth, The Golden Series from A Mother of Action blog
I absolutely LOVE Mammoth Math! This series lays thing out in a very straight forward manner that makes it easy for a student to understand. I love the worksheets from the yellow and green series to help solidify my kid's understanding of specific topics. I especially love the decimal and fractions packets. This is my top go-to series for my children.

- Teial S, Co-op Member
From a tutor who has used the 4th 6th & 7th grade worksheet collections:
I have use the books as primary, review and supplemental lessons

Several things make the Worksheet Collection valuable. The problems under each title are sufficient in number to allow learners to absorb the lesson without getting bored. Consistency between books makes an easy transition from grade to grade. The mix of problems in a lesson keeps the interest of the learner.

Robert Hurley
Yes, I am impressed. I am very interested in using the worksheets as a supplement next year. The formatting is great and everything appears to be well thought out including additional rules and tricks for making math more accessible to all.

Donald Eldridge
My name is Susan Greenwood and I am a 5th-8th grade math teacher at a small Christian school in New Jersey. Our school utilizes the A Beka curriculum exclusively, and after reviewing our state's core curriculum content standards for math, I was very motivated to find an inexpensive way to infuse the curriculum with more challenging material.

At the beginning of the 07-08 school year, I sampled our state's standardized tests for each grade. We currently use a private company for standardized testing, however, our state tests are very challenging and my goal is to ensure that our students meet and exceed our state's requirement so that our students can be as knowledgeable as their public school counterparts. Therefore, I pre tested our children in September 07 at one grade level below their current grade, and the results indicated a lack of proficiency in several areas(operations, problem solving, integers, algebra).

I immediately started my research on the Internet to find ways to enrich our current curriculum and stumbled on your web site which was very helpful and l led me to the Math Mammoth serires. There were sample pages available for download and I very pleased to see that your worksheets captured all the topics that I needed to make the curriculum challenging and complete. I used the worksheets in all grades and am pleased to say that we ended the year working on all the problem areas that were not addressed in the A Beka curriculum.

This school year (08-08) brought its own set of challenges- a drop in enrollment and consequently a limited budget, led to the decision to combine classes for the 5th and 6th and the 7th and 8th. Using the A Beka curriculum was exhausting because it is very redundant and I felt that I was wasting time teaching concepts that were already learned and once again not introducing concepts that were crucial. Keeping track of 2 grades at the same time was also inefficient and exhausting for all. I then decided to buy the Math Mammoth CD (the Gold and Green series) on my own and utilize it exclusively for all grades.

It has been a big hit with the children and my 5th graders are actually now working on the 6th grade worksheets along with the 6th grade! The workbook is very challenging for all the grades and I feel confident that the children are being exposed to all the math topics that they need to succeed when they get into high school. I am very pleased with Math Mammoth and have provided my principal with a recommendation that we discontinue our current curriculum next year, and buy the Math Mammoth for all our grades.

Your web site has also been extremely helpful and I have utilized so many of your resources. Your web site and books have been a blessing! Thank you!

Susan Greenwood
I surfed the net looking for curriculum and found Mammoth math. I printed out the 5th grade triangles sheet and the fractions sheet. Her response: "These pages are FUN!" Why can't you use this for my math?" She wants to do more !!! because to her they are like "brainteaser" puzzles.

Personally, I LOVE YOUR WORKSHEETS. Any worksheet that has my daughter begging to do more math is obviously well designed! Thank you!

Molly Grigg
I just used these worksheets (from 7-A) for the first time today and they were a life saver. The seemed to help my students understand integers better.

Jo Ann
I used several of your worksheets this week at various levels and found them to be awesome! The questions were challenging in that students were required to think and not just fill in answers. Thank you for the opportunity to sample your work. I will definitely recommend your materials.

Marianne Welker
I loved the worksheets!!! I do inhome tutoring and feel like I hit a goldmine!!

Marsha Mancuso
Blue Series
- $154 (download) or $157 (CD)
Blue Series for grades 1-3
- $49 (download)
Blue Series for grades 4-5
- $45 (download)
Blue Series for grades 6-8
- $60 (download)
Light Blue Series, grades 1-7
- $184 (download) or $189 (CD)
Light Blue Series, grades 1-3
- $79 (download)
Light Blue Series, grades 4-7
- $105 (download)
Golden/Green Series
- $65 (download) or $70 (CD)
All Inclusive Bundle
- $284 (download) or $287 (CD)
"Everything" Bundle
- $344 (download only)
Learn more
about the bundles!
*BONUS*
: Buy any bundle listed above, and get the fully upgraded
Soft-Pak
software for FREE (includes 4 math and 2 language arts programs, complete with on screen and printable options).
How and where to order
You can buy Math Mammoth books at:
Here at MathMammoth.com website — simply use the "Add to cart" buttons you see on the product pages.
Rainbow Resource carries printed copies for the Light Blue series books, plus several CDs (Light Blue and Blue series).
Homeschool Buyers Club offers download versions of the Light Blue series, plus the Blue series bundle.
Homeschool Planet sells the digital versions of the main curriculum and lesson plans to go with them.
K5 Learning offers download versions of the Blue series.
TPT sells the Light Blue Series downloads, plus topical units.
Lulu sells printed copies for most of the Math Mammoth materials (various series).
---
By purchasing any of the books, permission IS granted for the teacher (or parent) to reproduce this material to be used with his/her students in a teaching situation; not for commercial resale. However, you are not permitted to share the material with another teacher.
In other words, you are permitted to make copies for the students/children you are teaching, but not for other teachers' usage.
---
Math Mammoth books are PDF files. I recommend you use
Adobe Reader
to view them, including if you use a Mac. You can try other PDF viewers, but they may at times either omit or mess up some of the images.