Math Mammoth Grade 1 Review Workbook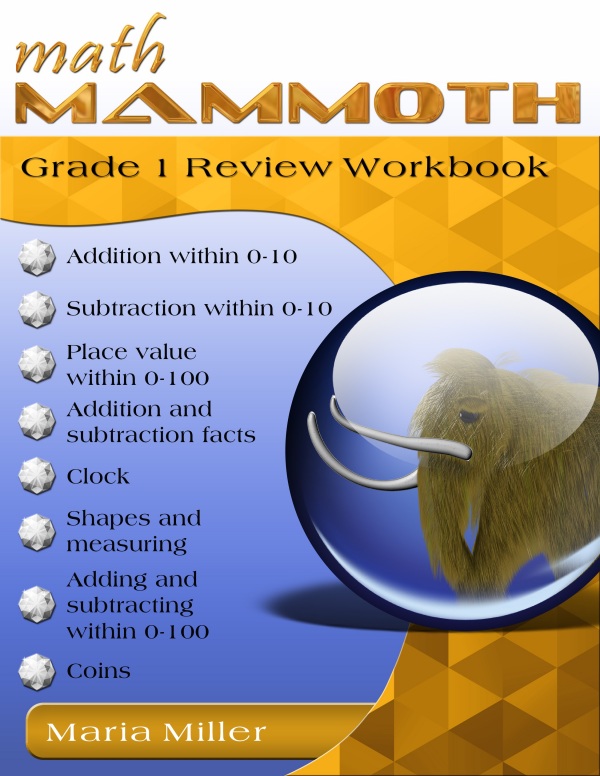 74 pages, of which
54 worksheet pages
answers included
Download sample
---
Prices & ordering
PDF download $5.50
You will be purchasing the download from my authorized reseller Comecero, LLC.
---
Printed copy $9.95, b&w
---
SAVE! Get all of the PDF workbooks as a discounted bundle for $30.35 — a 25% discount! (DOWNLOAD version).
Price: $30.35
This workbook is intended to give students a thorough review of first grade math. It has both topical as well as mixed (spiral) review worksheets, and includes both topical tests and a comprehensive end-of-the-year test. The tests can also be used as review worksheets, instead of tests.
You can use this workbook for various purposes: for summer math practice, to keep a child from forgetting math skills during other break times, to prepare students who are going into second grade, or to give first grade students extra practice during the school year.
The topics reviewed in this workbook are:
addition within 0 - 10
subtraction within 0 - 10
place value within 0 - 100
addition and subtraction facts
clock
shapes and measuring
adding and subtracting within 0 - 100
coins
In addition to the topical reviews and tests, the workbook also contains some cumulative (spiral) review pages.
The content for these is taken from Math Mammoth Grade 1 Complete Curriculum, so it works especially well to prepare students for grade 2 in Math Mammoth. However, the content follows a typical study for grade 1, so this workbook can be used no matter which math curriculum you follow.
Note: If you already own Math Mammoth Grade 1 (Light Blue series), this book contains duplicate content with that product. In that case I suggest you check out our skills review workbook, grade 1, instead.
Please note this book does not contain lessons or instruction for the topics. It is not intended for initial teaching. It also will not work if the student needs to completely re-study these topics (the student has not learned the topics at all). For that purpose, check out Math Mammoth Grade 1 Complete Curriculum, which has all the necessary instruction and lessons.
At HomeschoolMath.net, you can generate additional, free 1st grade math worksheets to supplement this book.