Math Mammoth Decimals 2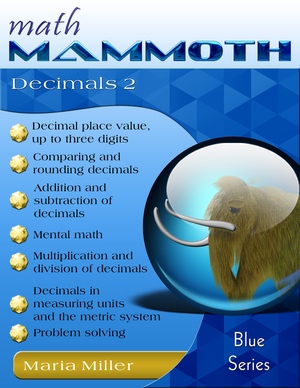 129 pages
Sample pages (PDF)
Contents and Introduction
Comparing Decimals
Multiplying Decimals
Long Division with Decimals
Divide Decimals by Decimals 1
---
Prices & ordering
PDF download $7.25
You will be purchasing the downloads from my authorized reseller Comecero, LLC.
---
Printed copy $12.50
---

Este libro en español
Math Mammoth Decimals 2 is a book about decimal place value and the four operations with decimals. It is most suitable for 5th and 6th grade.
The PDF version of this book is enabled for annotation. This means that if you prefer, the student can fill it in on the computer, using the typewriter and drawing tools in Adobe Reader version 9 or greater.
The book starts with a short review of previously learned concepts (from Math Mammoth Decimals 1): place value with tenths and hundredths, and adding and subtracting decimals that have tenths and hundredths.
The rest of the book is spent learning the four operations of decimals with numbers that have up to three decimal digits, and especially concentrating on decimal multiplication and division. We start by learning place value, comparing, and rounding decimals (tenths, hundredths, and thousandths). After that follow addition and subtraction, and then various multiplication and division topics.
I have strived to emphasize mental calculations based on conceptual understanding of decimals, and for that end the text also often includes little tips or "tricks" that help with mental calculations. Along with all that, the book has lessons on long multiplication and long division with decimals. Problems that show a small picture of a calculator are meant to be solved with the help of a calculator. Otherwise, a calculator should not be allowed.
The last lessons deal with problem solving, and as such could be included in some other course of study. They are included here since the problems involve the usage of decimal numbers, and also because the material for this book is taken from the 3rd chapter of the Math Mammoth Grade 5-A Complete Worktext, which includes those problem solving lessons.
After this book, the student should understand how to perform all of the four operations with decimals. However, please note that this book does not practice these operations with decimals that have more than 3 decimal digits. Students in 6th grade or higher should also practice decimal arithmetic with much longer decimals. For fifth grade, I feel the coverage in this book is sufficient.
You can make additional supporting worksheets on this page. Scroll down to the "Decimals" section.
You might also be interested in:
Better Yet - Bundle Deals!
Blue Series
- $120 (download) or $125 (CD)
Blue Series for grades 1-3
- $45 (download)
Blue Series for grades 4-7
- $75 (download)
Light Blue Series, grades 1-7
- $184 (download) or $189 (CD)
Light Blue Series, grades 1-3
- $79 (download)
Light Blue Series, grades 4-7
- $105 (download)
Golden/Green Series
- $65 (download) or $70 (CD)
All Inclusive Bundle
- $263 (download) or $268 (CD)
"Everything" Bundle
- $323 (download only)
Learn more
about these Math Mammoth bundles!
*BONUS*
: Buy any bundle listed above, and get the fully upgraded
Soft-Pak
software for FREE (includes 4 math and 2 language arts programs, complete with on screen and printable options).
How and where to order
You can buy Math Mammoth books at:
Here at MathMammoth.com website — simply use the "Add to cart" buttons you see on the product pages.
Rainbow Resource carries printed copies for the Light Blue series books, plus several CDs (Light Blue and Blue series).
K5 Learning offers download versions of the Blue series.
At Teachers Pay Teachers you can purchase the Light Blue Series downloads, plus topical units.
Lulu sells printed copies for most of the Math Mammoth materials (various series).
---
By purchasing any of the books, permission IS granted for the teacher (or parent) to reproduce this material to be used with his/her students in a teaching situation; not for commercial resale. However, you are not permitted to share the material with another teacher.
In other words, you are permitted to make copies for the students/children you are teaching, but not for other teachers' usage.
---
Math Mammoth books are PDF files. You will need
Adobe Reader
to view them, including if you use a Mac or Linux. You can try other PDF viewers, but they seem to either omit or mess up some of the images.