Does the order of multiplicand and multiplier matter in a multiplication equation?
Several people have asked me about this topic over the years... here's the basic question:
It seems that in Math Mammoth Multiplication 1 book, the multiplicand is second number and not the first. I had been taught that the equations are multiplicand x multiplier = product. I know that either order will produce the same product but is there a reason that you have the the equations multiplier x multiplicand? Just want to make sure that I am consistent when teaching my son.
In case you don't know, "multiplicand" is the number or quantity we are multiplying, and "multiplier" is the number we multiply by.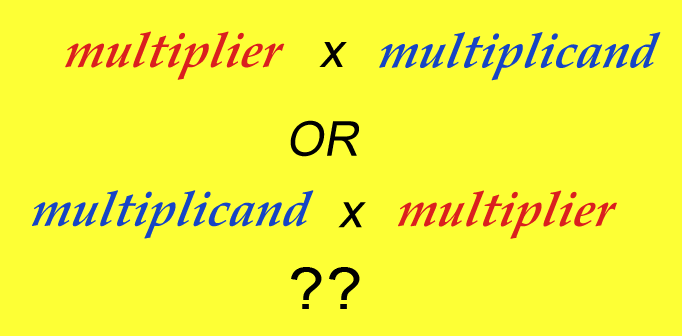 Yes, I do have a reason for it. It has to do with what happens down the road a bit.
In 4th grade, students encounter the thought of a fractional part of a quantity, such as finding 3/4 of $36. While we first use a two-step operation to find the answer, eventually (in 5th grade) students will learn how this corresponds to the fraction multiplication ¾ × 36.
Notice how the word "OF" from "3/4 of $36" translates into MULTIPLICATION, and the multiplicand is written SECOND.
Also in 5th grade, students will learn about multiplication as a scaling operation. For example, if something is 50 cm long and it is scaled by the factor 1.2, the new length will be 1.2 × 50 cm = 60 cm.
This then ties in with PERCENTAGES. Scaling some quantity by 1.2 is the same as 120% of the quantity. As you know, 120% is the same as the decimal 1.2. We can then equate the word "of" in statements of "percentage of something" with multiplication operation:

68% of $450
 ↓   ↓   ↓
0.68 × $450

This is extremely handy, not only with percents, but in algebra. Using this principle it is so easy to build algebraic equations such as:
0.9p = 5.6
where p is an unknown price so that when it's discounted by 10%, the new price is $5.60.
Back to 3rd grade multiplication.... I want children to see multiplication in that order (multiplier × multiplicand) so that when they get to percentages, and encounter 68% of $450, they will be able to quickly "translate" that to 0.68 × $450 (where we also have the multiplicand as the 2nd number).
But, children don't need to learn the terms "multiplier" and "multiplicand". I am afraid they may just confuse the issue. It's sufficient to simply use the term "FACTOR" for both numbers.
---
See also
---
By Maria Miller