5. Most popular from 2021...
The various posts in my newsletters are actually posted on my Facebook page first. Based on the statistics there, this was my most popular post in 2021. 🙂

---

Here's a neat and SIMPLE game to brush up on multiplication facts! 🙂

Use number cards (could be playing cards, UNO cards, etc. but remove the face cards and any special cards). Deal each person 4 cards, and also lay 4 cards face up on the table. On your turn, your task is to make a MULTIPLICATION SENTENCE using at least 2 cards from the ones on the table, and some from your hand. You can use 3, 4, 5, or more cards to do so. (Most multiplication facts use 4 cards but sometimes you can manage to use five cards, such as 6 x 13 = 78.)

In the image below, I was able to make 5 x 6 = 30.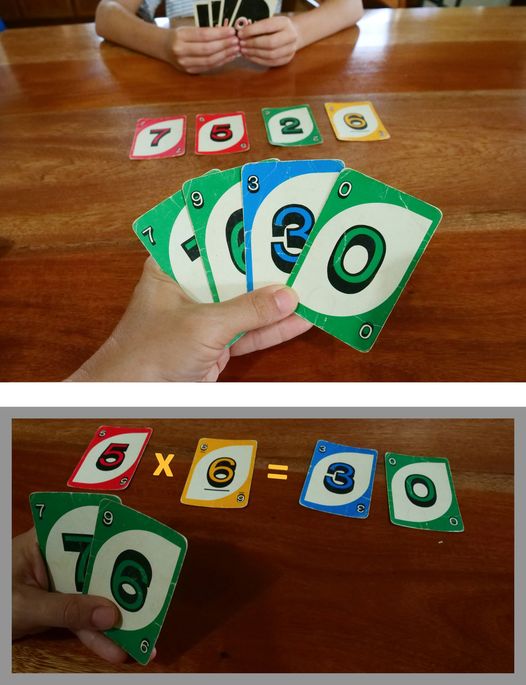 Then, you get to keep the cards you used to make your multiplication fact (put them to a separate pile). Replace the cards on the table and in your hand so there are 4 on the table again, and that you have 4 again. Then it's the next person's turn.

If you can't go, then the turn passes to the next player. If no one can go, deal one more card face up from the stack to the table. If no one can still go, repeat. The WINNER is the most cards in the end.

HAVE FUN!

We also made an online version of it: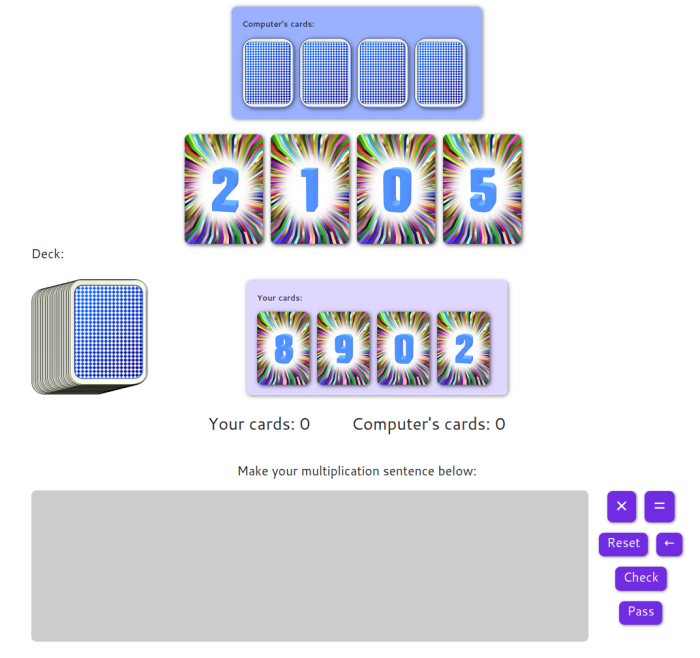 In this game, you make multiplication sentences from the cards in your hand and on the table, and try to beat the computer!

The computer can be either DUMB, medium smart, or genius.😄 We suggest you try the "dumb" option first.😁

This is suitable for grades 3 on up.