2. Is SPEED in math important?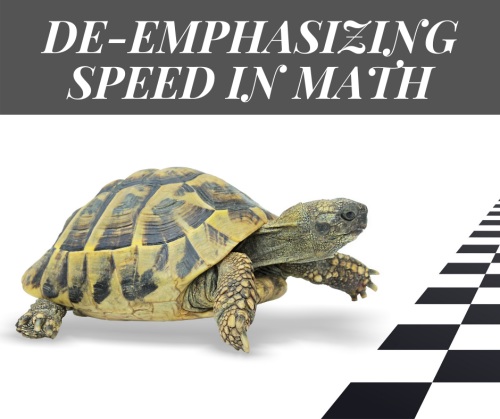 What do you think of SPEED in math? Is it important? How important?

While there is a benefit in quick recall of basic facts, the DANGER in emphasizing speed is that it can create math anxiety. It also goes along with the view that math is all about correct answers, nothing else.

One has to keep a balance. You don't want children to get stressed over speed, nor learn that the only thing that matters is getting the right answer.

I want my children (and all other children I teach directly or via my materials) to view math as something beautiful and enjoyable — an area of life where you get to learn, you get to DISCOVER, you get to see connections, and yet you also get to succeed as you solve both easier and more challenging problems and puzzles.

That said, I'm not against drills and speed drills as long as the child can handle those emotionally speaking, and as long as the child knows and can experience that that's not all there is to math.

There's some great food for thought in Donna Boucher's article De-emphasizing speed in math. Here's a quotation from it:


I recently spoke to the mother of a 1st-grade student who told her mom that she was bad at math because everyone in the class could answer so much more quickly than her. Heartbreaking. Six years old and already feeling that she is a failure at math. It got me thinking about what instructional shifts are needed in our math classrooms to de-emphasize speed in math and place more of an emphasis on reasoning and understanding.

Emphasize the process over the product

For as long as I can remember, math was about finding the right answer. Some people even say that they like math because there is a right answer and a wrong answer. That is changing. With standards that emphasize understanding over rote memorization of procedures and increasing calls for balancing content with process, math instruction is beginning to look different. Students need opportunities to see that while, yes, there might be only one right answer, there are many approaches to solving the problem. Even if the problem is as simple as finding the sum of 6 + 7.

I know that 6 + 6 equals 12, so 6 + 7 is just one more, or 13.
I decomposed the 6 into 3 and 3. I used one of the 3s with the 7 to make 10, and then added the other 3 for 13.
Seven and seven is 14 and one less is 13.
I put 7 in my head and counted on 6 more using my fingers.
Continue reading.