4. Puzzles from Nrich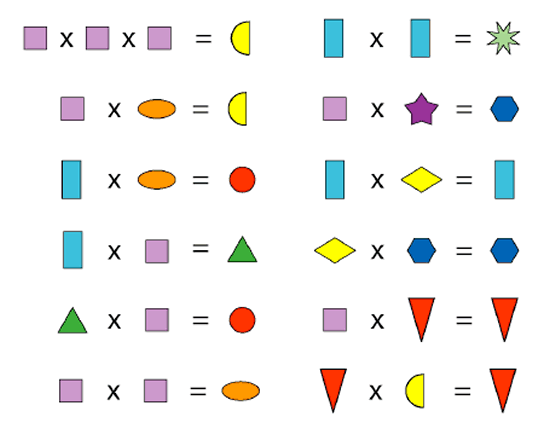 I found a neat "algebraic" multiplication puzzle for elementary school children...

Shape Times Shape Puzzle

These eleven shapes each stand for a different number. Can you work out what they are?

From NRICH - home of "rich" mathematics

---
Here's another one from the same site... a true mathematical exploration!

Consecutive Numbers

My 7th grader enjoyed this math activity a lot (I called it an "exploration" for her). We did it together, as I didn't know the "right answer" or how it would go.

You choose four consecutive numbers, such as 7, 8, 9 and 10. Then you place + and − signs in between to make an expression, such as

7 + 8 − 9 + 10

Try all different combinations of + and - signs, and see what ANSWERS you get.

Then change your numbers. And try a third set of numbers also. You'll notice something interesting!

I even made a simple spreadsheet to work it out in a spreadsheet program.

In the end, I showed my daughter how to present four consecutive numbers ALGEBRAICALLY... we will have

n, n + 1, n + 2, and n + 3.

Then, she actually figured out the algebraic expressions for all the possibilities of + and - signs between them. For example, one of them would be

n + (n + 1) − (n + 2) − (n + 3)

It ended up being a NEAT demonstration of the power of algebra: the POWER of GENERALIZATION. She was able to see the results of the exploration in a GENERAL sense, instead of simply trying different individual numbers.


---
Nrich.maths.org has lots more to offer — puzzles, games, and explorations. Check it out!