3. Clarifications concerning the 8th grade curriculum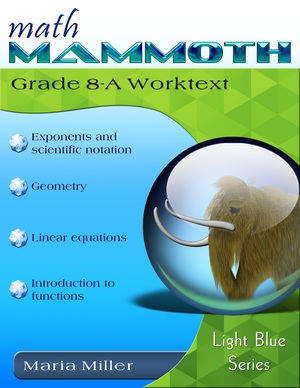 Questions keep coming in, so I will try to clarify some things.



— Will Grade 8 be a complete curriculum like the previous grades? (Light Blue Series)



Yes, grade 8 will be a complete curriculum and cover all the topics for that grade. It includes chapter tests, cumulative reviews, and a worksheet maker just like the other grade levels.



— Will 8-B be available before next semester?



Yes. I'm aiming for the end of this calendar year.



— My question is: after the upcoming changes to MM7, will a student still be able to take Algebra 1 rather than MM8? Or should I purchase MM7 now, while this version is still available?



Yes, a student will still be able to take algebra 1 after MM7, even after I make revisions in it.

Hope this helps!