Hi again and happy spring! In this edition I have:

---
1. Math Mammoth news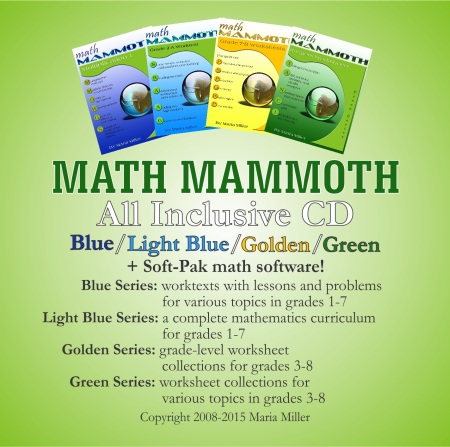 It's the traditional Math Madness Month at Homeschool Buyers Co-op... and you can save up to 50% on Math Mammoth bundles! The co-op is running a GROUP BUY once again!


---

The All Inclusive and Everything Bundles have been updated to include Skills Review Workbooks bundle for grades 1-3. The prices have been updated accordingly.


---

Someone recently asked concerning whether Math Mammoth printed books are spiral or perfect bound. Here's the answer:

The books sold at Rainbow Resource Center are perfect bound.
At Lulu, the Light Blue series student books and tests & cumulative review books are spiral (or coil) bound. The answer key books are perfect bound.

At Lulu, you will find the binding type listed in the "Product Details" section of the book... it will say "coil" if it's spiral bound. For example: Grade 1-A complete worktext

You might also check Lulu's home page as that's where they post special deals, discounts, and coupon codes, which they run often.