1. Math Mammoth news
Upcoming sales...

I will run a sale in latter part of January at Kagi store — I will let you all know about it later



Educents is running a sale on Math Mammoth BLUE series bundle and Light Blue Series Bundle, both through January 8.

You can find Math Mammoth downloadable products at CURRCLICK at 25% off... till January 19, 2016. This sale includes individual products, and excludes the already discounted bundles.

Homeschool Buyers Co-op will run a 40% off sale from January 21 till February 1. All the large Math Mammoth and Make It Real Learning bundles will be 40% off.


---

Announcing...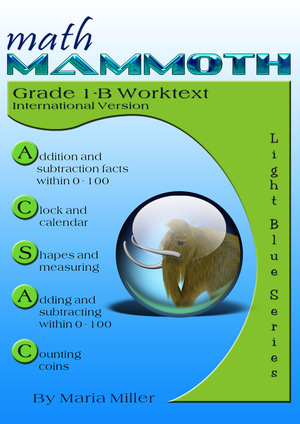 Currently available for grades 1-4, this version differs from the US version in these aspects:

The currency used in the money chapters in grades 1-3 is the Australian dollar. (The download versions for these grades include the chapter on money also for US, British, European, South African, Canadian, and New Zealand currencies.)
The curriculum teaches the metric measurement units. Imperial units, such as inches and pounds, are not used.
The spelling conforms to British international standards (British English).
Page (paper) size is A4.
Large numbers are formatted with a space as the thousands separator (such as 12 394). (The decimals are formatted with a decimal point, like in the US version.)
Check it out at the link below:
Math Mammoth, International version