3. Updated: Review of Geometry, Guided Inquiry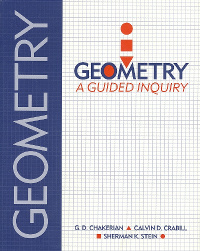 I've updated my review of a "combo" package for high school geometry, consisting of two different products:
Geometry: A Guided Inquiry (textbook);
Home Study Companion: Geometry by David Chandler which consists of video lessons, solutions, and Geogebra demonstrations.
The interactive demonstrations in the Home Study Companion used to be done with Geometer's Sketchpad, but Chandler updated the product so that now it uses Geogebra, which is a free dynamic geometry softare.


---

Here's an excerpt from the review:

Geometry: A Guided Inquiry is a problem-centered textbook. Each chapter starts with a central problem, which acts as a starting point for developing important concepts and theorems.

The text reads like a "worktext": many of the problems are an inseparable part of the overall instruction, because they will lead the student in a step-by-step manner to important theorems and results.

...


Home Study Companion: Geometry (HSC) by David Chandler really makes the textbook Geometry: A Guided Inquiry a home run for homeschoolers, because it provides complete, worked-out solutions (not just answers) to all the problems in the Central (the main worktext) and Project sections of the textbook. The book itself contains answers to its various review and self-test sections, yet Chandler includes complete solutions on video to all of the Review sections, which allow the student to see the complete problem solving process of the problems. With the Home Study Companion, you will always have help available should you get stuck while doing the problems or the projects from the textbook.

Not only that, but the Home Study Companion includes hundreds of interactive demonstrations using Geogebra, which is a free dynamic geometry software. These demonstrations cover most of the main concepts and many additional explorations of the Central and Projects sections of each chapter. Accompanying each demonstration (or cluster of demonstrations) is an activity guide (PDF file) that will help you get the most out of the Geogebra explorations and teach you how to use Geogebra as a tool on your own as well.

This review is quite comprehensive, so read the rest of it here.

Review of Geometry, A Guided Inquiry→