1. Math Mammoth news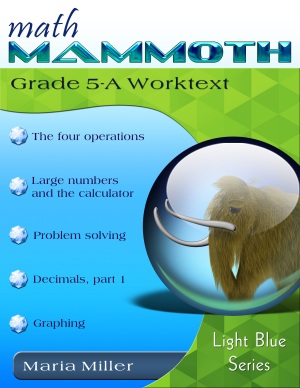 We have just published a new, 2023 edition for grade 5. It is a little shorter/"lighter" than the current, 2020 edition, as the graphing & statistics chapter has fewer lessons. There is a pacing guide added to each chapter introduction. And some lessons have been rewritten.

Learn more about the differences between this and the 2020 edition.


The Canadian version of grade 5 already is this new edition. The International version is not yet ready; it will be a few months before that becomes available.

By the way... the next grade level I will be revising and revamping is grade 3 — expected to be out in the spring of 2024. It is almost strange (though I realize this is common), when I look at my existing/older work, I immediately start feeling that needs changes. 😄



How to get updates



If you've purchased digital versions of Math Mammoth products in the past at the MathMammoth.com site (since August 2016), you can generate new download links for those products at www.mathmammoth.com/download-links

This means that if you have purchased the Light Blue Series bundle in the past, you can get the new edition for grade 5 using this tool.

Those who only purchased grade 5, or purchased elsewhere, will need to contact us for the new edition. Please include the basic information about your order.


A recent testimonial... ☺️

"My son is now a sophomore in a brick-and-mortar high school and is taking Pre-Calculus, but I still receive your monthly math news. We read your recommendations about what to use after MM, and he successfully completed Foerster's Algebra supplemented with Math Without Borders, followed by Geometry: A Guided Inquiry supplemented with Math Without Borders. He then took honors Algebra II & Trig through Kolbe Academy using Foerster's Algebra and Trigonometry text. The Pre-Calc class has been mostly review for him and he's looking forward to Calculus.

This is all a very long-winded way of saying that Math Mammoth worked very well for him, and that your guidance regarding "What next?" was very helpful. I see that you have expanded your discussion from what I remember reading a few years ago, and I am sure many homeschooling families have found it very informative. Thank you, both for a great program in Math Mammoth, and for your analyses of the more advanced levels. Well done!
Peggy S"
Sales info:
My traditional May sale for the digital versions at MathMammoth.com is just around the corner! I will send a separate email about it, soon.
Rainbow Resource Center will run a sale for MM printed books from May 16 to 22.
Lulu runs promotions constantly; subscribe to their newsletter to find out about them. Right now, through May 12, you get 10% off of all print books at Lulu with code MOTHERSDAY10. But after that, they will probably have a 15% off promotion.