4. What to do after MM7
Someone asked about what to do after MM7:
"My son has completed math mammoth 7th grade. What curriculum do you recommend for 8th grade math?"
Right now you have the option of actually doing some more Math Mammoth materials, because I'm in the process of writing 8th grade level materials. These materials are being published as topical units in our Blue Series, and the following are already published:

Exponents and Scientific Notation — grades 8-9. Negative and zero exponents, exponent laws, significant digits, scientific notation, using scientific notation in calculations.

Geometry 4 — grade 8. Congruent transformations, dilations, angle relationships, volume of pyramids, cones, spheres, and cylinders.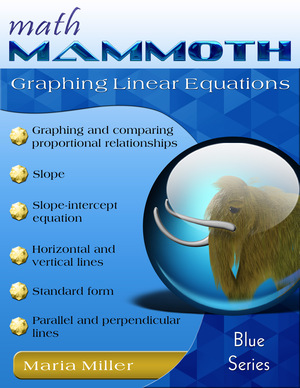 Linear Equations 2 — grades 8-9. Multi-step linear equations, equations with fractions, word problems, number of solutions to an equation.

Introduction to Functions — grade 8. Concept of a function, rate of change, linear and nonlinear functions, modeling with linear functions, describing functions, comparing functions.

Graphing Linear Equations — grades 8-9. Comparing and graphing proportional relationships, slope, slope-intercept equation, horizontal & vertical lines, standard form, parallel & perpendicular lines.


The other option is to go to Algebra 1, such as with the textbooks & companion products from mathwithoutborders.com. See also some other options listed here.

The choice between going directly to algebra 1 and the new MM8 basically boils down to this: if your son did well with MM7, he could go to algebra 1. If instead you feel he would benefit from a slower pace with algebraic concepts, he could do the books I have for 8th grade, and then go on to high school math. 😀