3. Dividing into four groups
One Math Mammoth user was stumped by this problem...

There is a picture of 11 apples and it says to "Divide into four groups."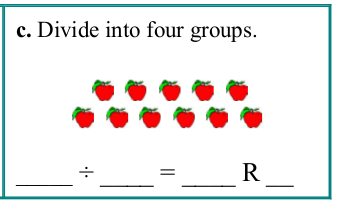 Now, 11 ÷ 4 = 2 R3, clearly. (We get two apples in each group, and three apples left over.) Here comes the part that stumped this lady:

"...if I divide 11 into 4 groups, the groups have to be 2. That leaves a remainder of 3, but then the remainder is bigger than the group. It seems like it could be right anyway, but if you "check" the answer by using 11 ÷ 2, you get 5 R1."

This is an interesting question! There are a few things to keep in mind:
Reminder problems are not checked that way (by using the quotient as the divisor). Instead, you multiply and add.

For example, to check 23 ÷ 6 = 3 R5, multiply 3 × 6 and then add the remainder 5. You should get the original dividend.
The DIVISOR in division problems can be interpreted to mean two different things: either the number of groups OR the amount in each group.
The rule is: the remainder should not be more than the divisor. It is not that the remainder should not be more than the "group". If you think of the point (2) above, you are either interpreting the division problem as "division into certain size groups", or "division into certain amount of groups". In this case, we have 11 apples to be divided into four groups. The divisor is 4, and it means the number of groups. We get 11 ÷ 4 = 2 R3. The remainder of 3 is NOT more than the divisor (4), so everything is fine! If we had 4 apples left over, we could give each group one more apple, but we have only 3 left over, so we can't.
Then, taking the division 11 ÷ 2 = 5 R1, using the same interpretation, we'd be dividing into TWO groups. That is not going to check the division 11 ÷ 4, where 11 are divided into four groups. The check is always simply to multiply the divisor and the quotient, and add the remainder — and you should get the dividend.

Hope this helps!